---
Population monitoring
With the karch (Coordination centre for the protection of Amphibians and Reptiles in Switzerland), monitoring have been initiated since 1999 in some populations of adders in the Jura Mountains or Dice snake and Viperne snakes on the shore of the Lake Geneva.
Indeed, only long term monitoring can allow to evaluate complex history and slow population evolution.
• URSENBACHER S. & MONNEY J.-C. (2003) Résultats de 5 années de suivi d'une population de Vipères péliades (Vipera berus) dans le Jura suisse: estimation des effectifs et discussion des méthodes d'estimation, Bulletin de la Société Herpétologique de France 107 15-25
Reintroduction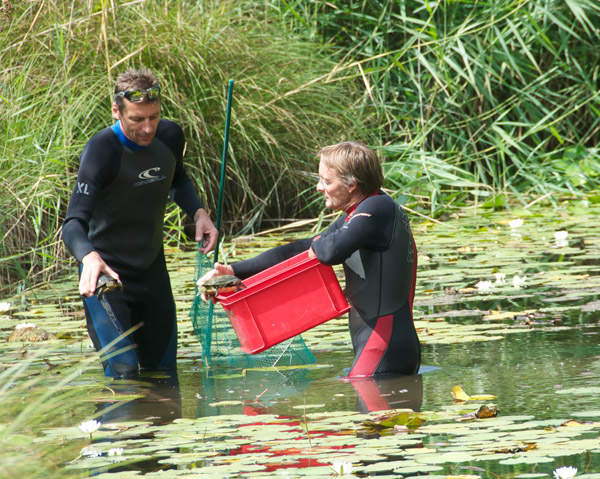 Programs of reintroductions should be avoided as much as possible but, in some cases, this approach is the only one possibility to settle new populations. When a location is favourable for a species (following specific developments or removing the reason of the initial disappearance) and if the species has no possibility to naturally recolonise this location, a reintroduction program would be the only method to generate a new population and consequently increase the distribution area of the species.
However such reintroduction action should be conducted within strict rules, such as a monitoring of the newly created population, the reintroduction of individuals with a known pedigree corresponding to the biogeography of the species, …
In Switzerland, the European Pond Turtule (Emys orbicularis) is limited to one population near Geneva and a few non-indigene individuals in some pounds. The main population is regularly monitored in order to evaluate the survival rate and the evolution of the population size. Currently, several locations in Switzerland are suitable for the species and reintroduction programs were initiated. The PhD thesis of Matthieu Raemy is focused on the reintroduction of this species.
Alien species
Only a minority of introduced (voluntary or not) species can settle and a minuscule part of them became invaders. These species, however, have a huge impact on the native community and induce the reduction of numerous species. Consequently, their impact on native communities is a major concern for conservation biology.
For instance, the Dice snake (Natrix tessellata) has been introduced on the shore of the Lake Geneva where the Viperine snake (Natrix maura) is naturally present. A monitoring of both populations was initated since 1996 and a significant reduction of the native species was detected, suggesting a competition between the native and the introduced species. We presently are working on the possible competition between between both species to understand on which aspect the competition occurs.
• METZGER C., URSENBACHER S. & CHRISTE P. (2009) Testing the Competitive Exclusion Principle using various niche parameters in a native (Natrix maura) and an introduced (N. tessellata) colubrid, Amphibia-Reptilia Amphibia-Reptilia 30 523-531
• DUBEY S., URSENBACHER S. & FUMAGALLI L. (2006) Origine des populations de rainette verte (Hyla ssp.) de l'ouest de la Suisse, Revue Suisse de Zoologie 113 (4) 879-887
• LORVELEC O., FRETEY T. & URSENBACHER S. (2003) La Couleuvre tesselée : Natrix tessellata (Laurenti, 1768), en Suisse, in: Evolution holocène de la faune de Vertébrés de France : invasions et disparitions (eds. PASCAL M., LORVELEC O., VIGNE J.-D., KEITH P. & CLERGEAU P., coordonnateurs), Institut National de la Recherche Agronomique, Centre National de la Recherche Scientifique, Muséum National d'Histoire Naturelle. Rapport au Ministère de l'Ecologie et du Développement Durable (Direction de la Nature et des Paysages), Paris, France. Version définitive du 10 juillet 2003. 335-336
• LORVELEC O., URSENBACHER S. & FRÉTEY T. (2003) Le Triton crêté italien : Triturus carnifex (Laurenti, 1768), in: Evolution holocène de la faune de Vertébrés de France : invasions et disparitions (eds. PASCAL M., LORVELEC O., VIGNE J.-D., KEITH P. & CLERGEAU P., coordonnateurs), Institut National de la Recherche Agronomique, Centre National de la Recherche Scientifique, Muséum National d'Histoire Naturelle. Rapport au Ministère de l'Ecologie et du Développement Durable (Direction de la Nature et des Paysages), Paris, France. Version définitive du 10 juillet 2003. 144-145
• KOLLER N. & URSENBACHER S. (1999) Estimation de l'effectif de Couleuvres vipérines (Natrix maura) et de Couleuvres tesselées (N. tessellata) dans le Lavaux, in: Annales du Colloque "Découvrir le Léman" (eds. Bertola C., Goumand C., Rubin J.-F.), Musée du Léman & Editions Slatkine, Genève 313-322